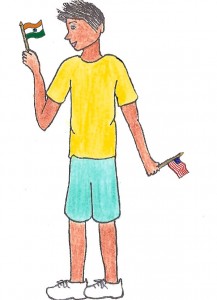 HARI Vidya Bhavan is a non-profit language and culture school located in Rhode Island.
HARI School is a non-profit organization incorporated in the state of Rhode Island. It been granted a tax-exempt status by the IRS; the Tax Identification Number is 26-2161086. All donations to HARI school are tax deductible.
The school is fully operated by a team of dedicated volunteers from the community.
Mission Statement
The mission of HARI is to provide Hindi language instructions and to foster a secular understanding of India's diverse cultural heritage among the New England Indian/Indian American community.
Objectives
The following are the objectives to fulfill the mission of HARI
To offer quality language instructions to children.
To instill appreciation and understanding of the India's rich and diverse cultural traditions, practices, and history within a secular context.
To promote personal growth and development with participation in cultural events and performances.
To encourage volunteering and community engagement.
Statement of Diversity
HARI School admits students without any distinction to race, color, nationality and ethnic origin. All the rights, privileges, programs, and activities are available to all students admitted to the school. There is no discrimination in administration of educational policies, admissions policies, scholarship programs, and other school-administered programs.
Our History
HARI Vidya Bhavan was started in September 1996. Since inception it
operated for twenty years at the Third World Center of Brown University, at 68 Brown
Street, Providence, RI. From September 2017, HARI will move to a new premises at 40
Gardiner Street in Warwick. RI.
HARI was founded through the collaborative efforts of four organizations – Hindi Association of Rhode Island, India Association of Rhode Island, Third World Center (now Brown Center of Students of Color), and South Asia Students Association of Brown University. The goal was to provide Hindi language and culture instruction to the next generation of Indian -Americans. Founding members were  Dr. Ram Gupta, Dr. Rajesh Mishra, Ashwini Budhiraja and Hans Maheshwari. In the first year, the school had an enrollment of 40 students; by 2013, the enrollment has increased to 75 students.
The Board of Directors of HARI comprise: Ram Gupta, Ashwini Budhiraja, Hans Maheshwari, Brijesh Rai, Anjali Ram and Arun Deshpande.
Dr. Rakesh Gupta and Vinod Israni served as the School Coordinator. The present School Coordinators are Brijesh Rai and Sumit Madan